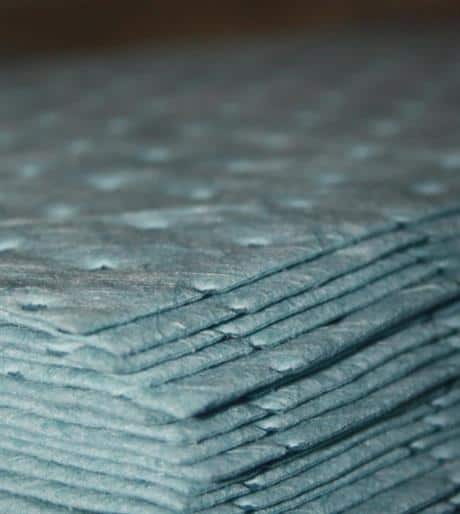 Oilabs Oil Only absorption mats
Melt blown polypropylene (PP) blue-grey fabrics

Absorbing ability 15 times own weight

Oil only for oils

Used material possible to destroy by burning

Sonic bonded also available

Sheets and rolls available with perforation

Two grammage weights and strengthened also available 
Oil Only Sheets
| | | | | | |
| --- | --- | --- | --- | --- | --- |
| Koodi | Oil Only | Koko | Imukyky | Pakkaus | Lavakoko |
| WP200L | arkki 200 g | 40×50 cm | 110L/pkt | 200 kpl/pkt | 20 pkt |
| WP100H | arkki 400 g | 40×50 cm | 110L/pkt | 100 kpl/pkt | 24 pkt |
Oil Only rolls
Oil Only Rolls (strengthened)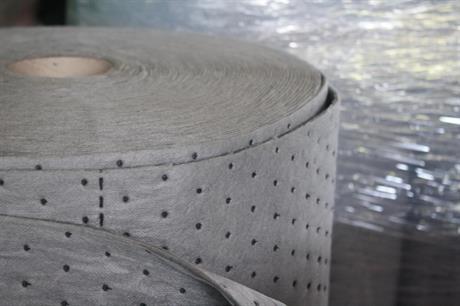 Oilabs Universal absorption mats
Melt blown polypropylene (PP) grey fabrics

Absorbing ability 15 times own weight

Oil only for oils

Used material possible to destroy by burning

Sonic bonded also available

Sheets and rolls available with perforation

Two grammage weights and strengthened also available
Universal sheets
| | | | | | |
| --- | --- | --- | --- | --- | --- |
| Code | Universal rolls | Size | Absorption ability | Package | Pallet Size |
| GBP200L | sheet 200 g | 40×50 cm | 110 L / pkg | 200 pcs / pc | 20pcs |
| GBP100H | sheet 400 g | 40×50 cm | 110 L / pkg | 100 pcs / pc | 24 pts |
Universal rolls
Universal rolls (strengthened)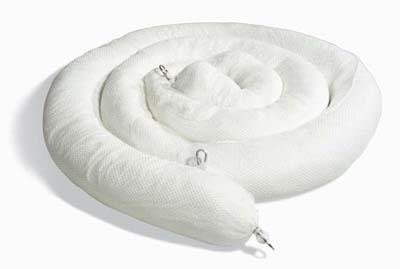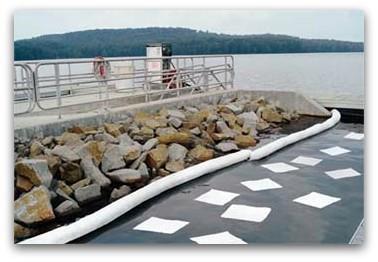 Oilabs absorption booms and socks
polypropylene absorbs up to 15 times its own weight of oil

the boom floats almost endlessly

booms have quick connectors to connect them to each other

cord strengthened – robust construction even in difficult conditions

white Oil Only products are for oils only and gray Universal products for all liquids
Information
| | | | | | |
| --- | --- | --- | --- | --- | --- |
| Code | Product | Size | Absorption capacity | Packaging | Amount on pallet |
| WP510SN | OilOnly boom | 15cm x 3m | 122 L / pkg | 4 pcs / pkg | 12 pkg |
| WP810SN | OilOnly boom | 20 cm x 3 m | 182 L / pkg | 4 pcs / pkg | 6 pkg |
| WSO120 | OilOnly sock | 8cm x 1.2m | 5.3 L / pcs | 20 pcs / pkg | 16 pkg |
| GSU120 | Universal sock | 8cm x 1.2m | 5.3 L / pcs | 20 pcs / pkg | 16 pkg |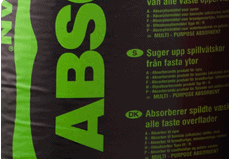 Absodan Absorbent granules
Absodan granules are made of Danish Moler clay, which has been burned at about 750 degrees.
granules are hard and very absorbent, size of grain is 1-3 mm

absorbs quickly and safely any kind of liquid from any solid surface in or outdoor

does not react chemically with any liquid except hydrofluoric acid and is therefore suitable for all liquids; for oils, acids, bases, aqueous and organic solvents

safe to use because it does not contain organic substances, so does not ignite easily

Easy and quick to distribute and collect after use; also suitable for protection.
THREE STAGES OF ABSORPTION:
1. Sprinkle granules on the leak. If the leak is spreading, make a barrier in front of the leak. Dispense the amount according to the size and viscosity of the leak.
2. Mix with the coarse brush granules back and forth until the liquid is absorbed.
3. Use the brush to collect the debris. Dispose as required of absorbed liquid. Granule itself is an organic product and does not require special actions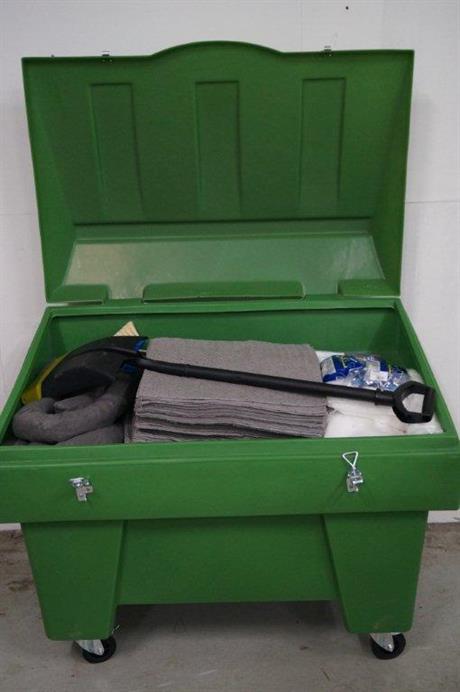 – everything you need to keep your job safe in one place
The 450 liter trolley include in everything you need for absorption. The locked wagon is made of strong plastic and can be locked. The trolley is easy to move and place thanks to the lockable brakes on the bottom.
Absorbent products of the wagon suck up all liquids, but if desired we can also supply the wagon with similar Oil Only products which repel water but absorb oil efficiently.
CONTENTS OF A BREAKING SUPPLY WAGON:
Absodan Universal granules 2 x 20 kg pkg

Universal absorption pads 100 pcs

Universal absorption mat roll 0,4×53 m

Universal absorption socks, 8×120 cm, 15 pcs

Oil Only pads 5 pcs

brush and dustpan

big shovel

nitrite gloves, 2 pairs

disposable protective coverall

goggles

eyewash

waste bags, 10 pcs
Mon-Thu 8.00-16.00 & Fri 7.30-15.00
03-584 7422 / office,
03-584 6333 / store